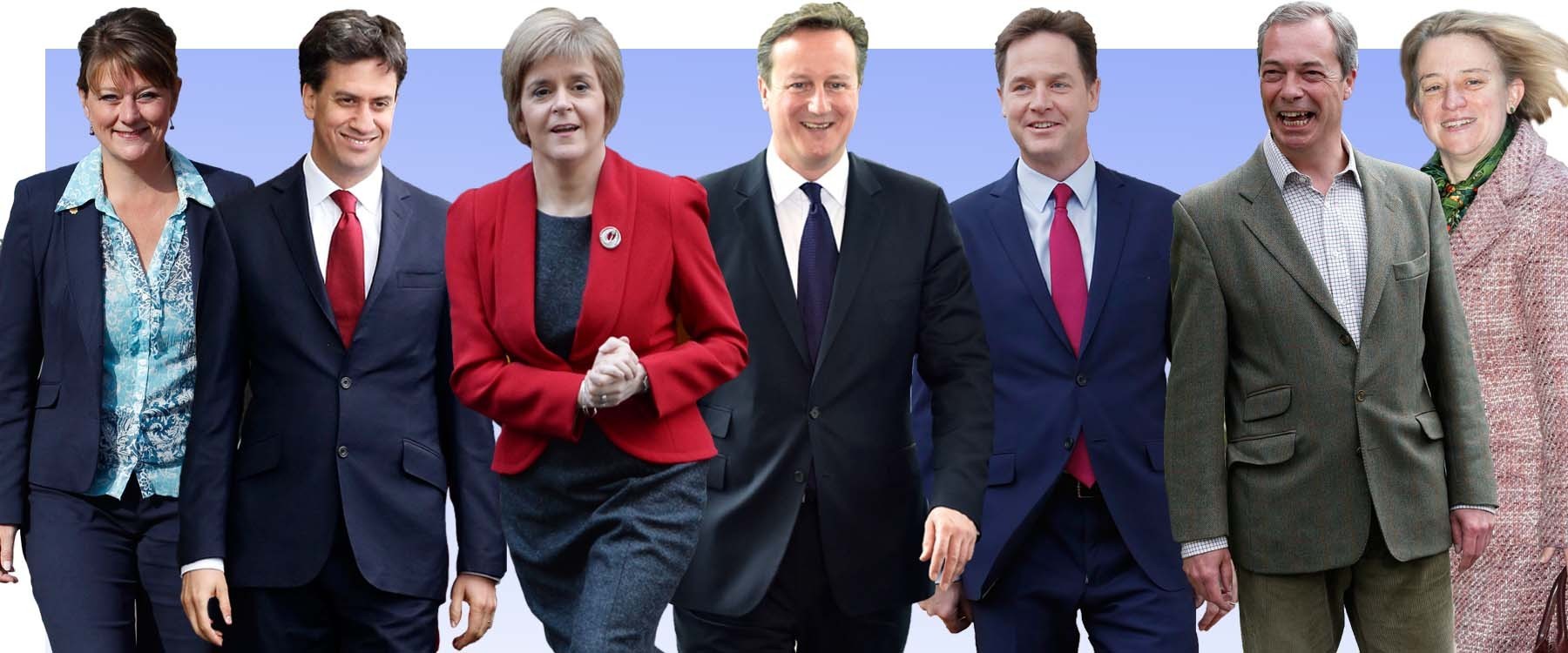 The General Election in 2015 is nearly upon us. They are calling it the most important election for a generation. Let me shatter that illusion for you. It isn't. It is no more or less important than the previous one or the one before that and so on. Every election is important because it is an exercise in democracy. The problem is that it brings out the stupid and cynical in people like nothing else. These are political demons, problems that arise from the nature of our democratic media-fuelled society, that need to be killed. So while I am not going to tell you how to vote, I am going to dispel some things that exist in this election that are just plain nonsense.
THE PROBLEM WITH POLITICS IS THE POLITICIANS
Wrong. It is the electorate. We don't like their bickering but we will bicker with them. I watched Piers Morgan on Question Time say that politicians lose their audience by squabbling like little children. He proceeded to do that very same thing minutes later. So did the audience. If the politician sits there and waits to make their point, they will be relatively silent for a long time. They will get talked over, they will get heckled, they will be deemed weak. Why? Because we, the people, have allowed politics to become this. Politics is not detached from society. It is a reflection of it. We are an aggressive, rude, adversarial society. You only need to read a political discussion on Facebook to prove my point. We do not discuss politics rationally or politely. We do it emotively, no matter how eloquent it is. So stop lashing politicians for being like us. You just don't like the reflection of your personality.
THE SNP AND PLAID CYMRU WANT TO BREAK UP THE UNION
And so is their right. This does not make them bad people. Nicola Sturgeon is not craving the crown and throne of Scotland. She honestly believes that Scotland would be better off as an independent nation. She has the right and perfectly sound logic behind that. Leanne Wood has a less compelling case but has every right to assert her belief too. I'm old enough to remember when the Czech Republic and Slovakia were one nation. They have coped with splitting up. The fact that they want independence from the UK is not a valid reason to show them disdain. If anything, it would certainly bring an end to the Barnett formula which, despite any argument, is unfair.
UKIP ARE NOT ANTI-IMMIGRATION OR RACIST
This will seem a contradiction but to lazily label UKIP as a racist party is nonsense. Every party with any kind of decent numbers will have racists and other prejudiced people among them. That's just an uncomfortable fact. UKIP want to adopt an Australian style points immigration system, which proves that immigrants can come here, sustain themselves and contribute positively to society. Do we consider Australians to be racist? I doubt it. Australia is one of the most popular countries for UK citizens to emigrate to. You may disagree with their policies but name calling only degrades the value of politics.

THE LIB DEMS WERE RIGHT TO GO INTO COALITION
Politics is about compromise for the betterment of society. The countries with the most effective political systems tend to be those that run on coalitions. Those that tend to be less effective are adversarial schemes that let one side have their way for a few years and then the pendulum swings back. As the numbers stood and with the uncertain economic times, the Conservative- Lib Dem combination was the only viable possibility. Such a set up had to require sacrifice. The Lib Dems wanted plenty of things and have been able to execute over thirty worthwhile policies. To whip them for the tuition fees is ridiculous. Yes, the fees are triple but don't be fooled by the name. They are a graduate tax. You earn more, you pay more tax because you went to University and it is written off after 40 years. It is fairer than the previous system and it hasn't adversely affected attendance figures. You cannot batter the Lib Dems for their perceived errors and ignore the good that they have done. It is utterly churlish to do so.

LABOUR'S ECONOMIC CREDIBILITY IS NOT AN ISSUE
As much as the Conservatives would like to remind us about the credit crunch and the economic crash that came from it was Labour's fault, and they may well be right, it is a hypocritical argument. The Tory Government that preceded Blair and Brown were responsible for Black Wednesday. For those who forgot, that put the country into a massive recession. The fact is both parties have ruined the economy at one point or another. The only party that has been in Government and not wrecked the economy at some point are the Lib Dems, and that's because they've only had 5 years in the job.

THE GREEN PARTY IS NOT A SINGLE ISSUE PARTY
While it was set up primarily as a party to push pro-environmental issues, it is a party with credible policies. To dismiss them as such only shows your ignorance. Speaking of that...

"POLITICIANS DON'T ENGAGE ME"
Actually, it is not their responsibility to do so. It helps them if they do because they are more likely to secure your vote. However, if you value the political process in this country, the obligation is yours to read the manifestos of all parties and make a decision. Your right to vote comes with that responsibility. Don't shift the blame to someone else.

"ANTI-TORY MPs"
This is a horrendously small minded rhetoric. It is designed to demonise the Conservative party. If your politics are progressive and they improve the standard of life in the country, this should not be in your vocabulary. There has been a great deal of hypocrisy from those who have used this phrase. They would chastise UKIP for utilising fear inducing language and then use similar statements that suit their own needs. It is not something we should tolerate.

CONSERVATIVE POLICIES FOR PENSIONERS ARE NOT PURELY FOR VOTES
Owen Jones, a writer for The Guardian, is an odious character, who has taken it as a personal crusade to campaign against "the establishment" and the rich boy clique he supposedly believes it to be. When the supposed systematic attack on the working class kicked in, he leapt to the defence of those who claimed benefits, saying the biggest pull on the welfare bill were pensioners, like that should be the place we shave the welfare bill first. He would have you believe that we should be raiding the earnings of pensioners long before we demand that people find a job. To put this in perspective, pensioners are people who have worked for over 40 years, contributed taxes and more to our great society. The benefits they enjoy now, they earned. Policies for pensioners are policies for people who contributed consistently to society. Even if the argument is presented that they are more likely to vote, then surely they should benefit from a system that they invest themselves into. More so, if those people are voting Conservative, then that party should be serving their voter's best interests. Wouldn't you expect the party you vote for to do the same?

THERE IS NO POINT IN VOTING
Do you really think that? If you do, shut up. Don't complain about how things are in the country. Don't share your insight about the political situation. Your opinion is no longer valid because you were not willing to do something about it. If you genuinely fall into that category who says that there is no one who you would vote for, and I doubt that argument has any basis, due to the diversity of parties and candidates on offer, then get involved with politics yourself. Just because you don't get someone into the House of Parliament does not mean your vote goes ignored. The elected official has to consider all of his constituents. Not voting for them means that they have to consider that and work for that vote in 5 years time. Make them accountable. Vote. Even if you spoil your ballot. Spoilt ballots are in the official count and are treated like an abstention. A failure to show up is treated as nothing. Make your vote count by making it part of the count.

It is about time that we ended the school playground mentality of politics. Learn the policies. Avoid the slander and hyperbole. Inform yourself and vote. Because the most important election is always the one that is about to come.